Just after the BLITZ on Plymouth my papers came and I had to report to a place called Penarth in Wales. There, we were all kitted out and shown how to pack everything in our kit bags and our back packs. It was a work of art.

From there I was sent to Blackpool, into private digs. Here in 1942 we were taught discipline and how to handle arms and many other things about service life.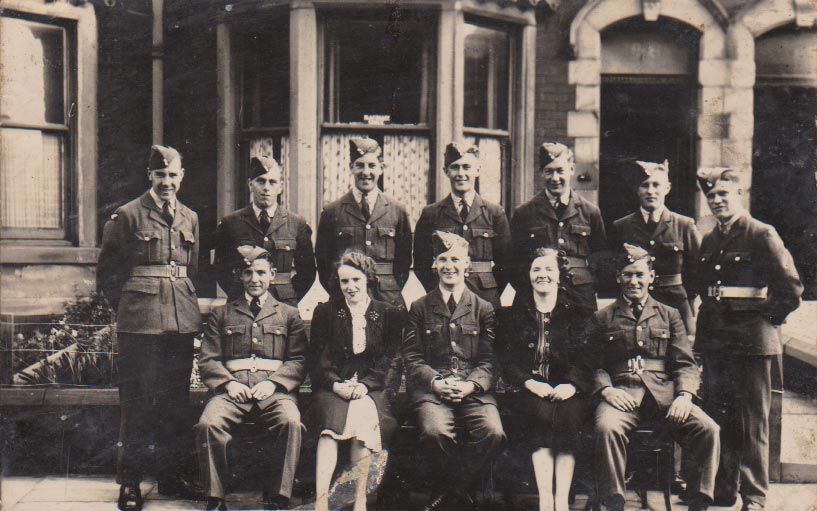 The landlady's name was Mrs Varley and it was 66, Egerton Road. Three of her rooms were occupied by raw recruits, about 12 in all. Quite a few of the chaps I served with right through the war. Every one of us had to do housework including the dishes, of course there was a proper roster made out by our Sergeant who was called Cox.

I Was sent on leave and was informed to report to RAF Snaith In Yorkshire, it was Number 99 bomber squadron the station had 2 squadrons of Wellingtons, usually called Wimpys. I learnt things about the RAF very quickly & it was usually the hard way. I was then sent to a satellite airfield to learn refuelling but while there we saw an air­craft blow up in midair with a full fuel load and bombs.

After two days we were sent back to RAF Snaith where for a month I drove a dodge left hand drive crew bus, got to know the crews very well and had lots of perks. Once when we had to practice throwing a "hand grenade" (a dummy one) into someone's hat, we each paid some money to make it worth while, I got the grenade right into the hat so I got the kitty. Another time I had to refuel a tractor and kept the engine running because it had to be started by hand. I had a right good lecture & telling off by the MT Officer. Was issued with an American Garand rifle, which withdrawn when I was posted to RAF Weeton.

Eventually we were sent to RAF Weeton near Blackpool to learn all about every type of vehicle then being used by the Air Force at that time, including Artics, tractors, large lorries, cranes, refuelers and tankers.

While there we were paid every 2 weeks. On pay parade, someone would shout your name & you had to reply with the word Sir & the last three number, of your service number. Then an officer would say the amount. Mine was £1-15p for two weeks pay.

One pay parade, I shouted "Sir 351 one pound fifteen". Of course, I did not get paid and was arrested and given 14 days jankers. Which meant reporting to the Guard room every lunch break in working rig and twice in the evening in best blue with full kit to be inspected by the Orderly Officer.
NO. I DID NOT TAKE IT KINDLY. IT NEVER HAPPENED AGAIN.


While I was there I volunteered for overseas duty and after the course was sent home on embarkation leave and at home I sold my bicycle and my 12 bore double barrel shot gun.