Sunday 13th Dec 2015

G

oing on Holiday for Christmas and New Year with Byron & Sarah.


Vonney took us to the Bus station to catch the

09:55hrs. National Express NX 504 to Heathrow Airport London


17:59hrs At ibis hotel heathrow
Just to say we are on our way! Logged on their computer, Paulene & I had a nice soup bread roll and tea, next see

Strictly

Results. Full English Breakfast at 06:30hrs then bus into Heathrow central bus station from the corner. Plane due away at 10:50hrs!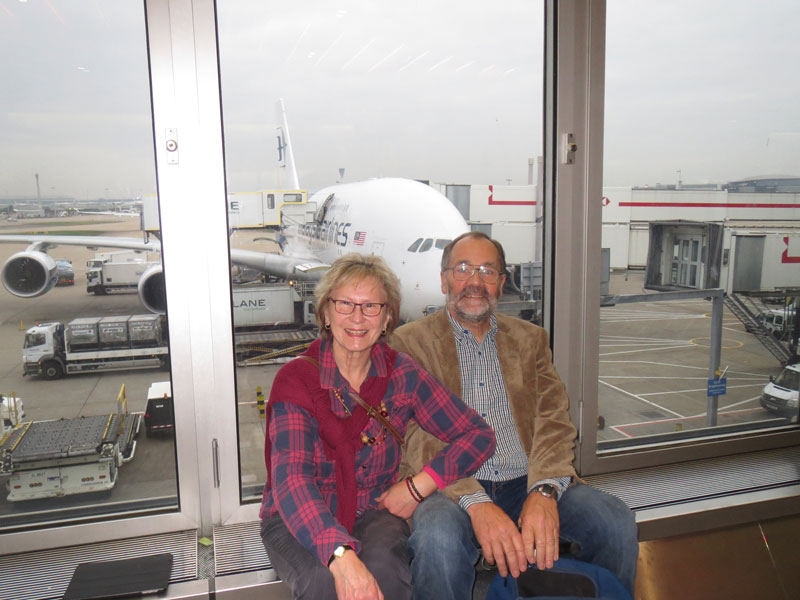 Monday Morning 14th December
Took Taxi too Terminal 4 Checked in 2 Bags and one oversized Item a Picture. Plane late arriving so take off was delayed.
Tuesday 08:30hrs Landing at Kuala Lumpur airport but unable to go to the Terminal we had missed our slot, so had to wait on the taxi way another hour, but our plane to Perth waited for us to rush through the Airport, it still waited for the baggage to be transferred, but in Perth we learnt that the oversized baggage didn't make it.
Byron had a longer wait than he expected but was there to welcome us to Australia!


Wednesday 16th December
Took dogs for a walk with the lead on their noses, up near local shops then through park took wrong exit out of park, was a little lost, but as we came past a lady, Nellie was ever so happy to see her dog and she knew where Byron & Sarah lived. We tried our TalkTalk Sim's, we had asked for them to work here in Perth, but no joy! That evening our oversized item, the Picture, arrived at the door.

Thursday 17th December
Walked to Edgewater station, took train to Joondalup. Found Main Street but found Lakeside Shopping Mall more interesting. Paulene had me buy a short sleeve shirt and then some post cards. Returned by train, and then walked 15min to Gypsy Ct. When Sarah came home she gave us a local Sim, with credit on, which kept us in touch for the rest of our holiday.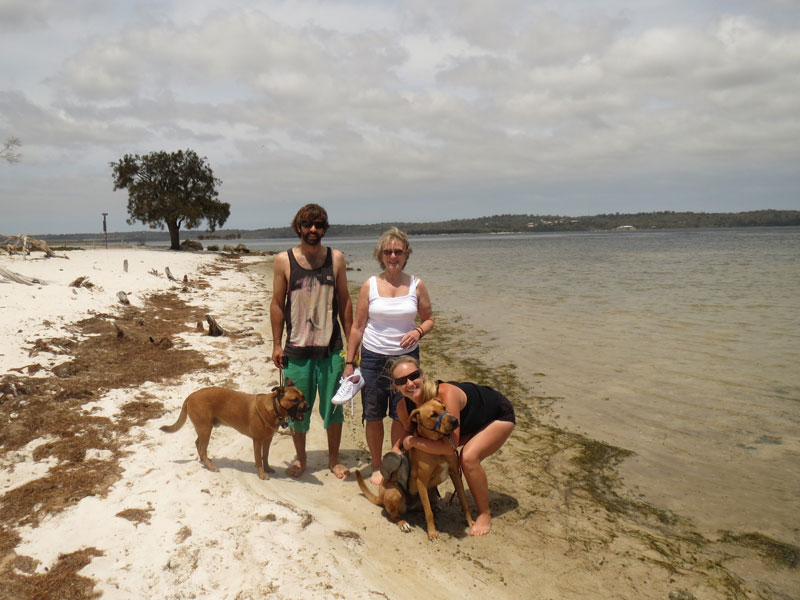 Friday 18th December 3hrs to yallingup,
We made two stops mostly for the dogs to have a break and a wee. First was at herron point This was a most unusual place, at the far south end of Peel Inlet and Harvey Estuary 20km south of Mandurah, you could walk across the lake here! and a real Australian camp site.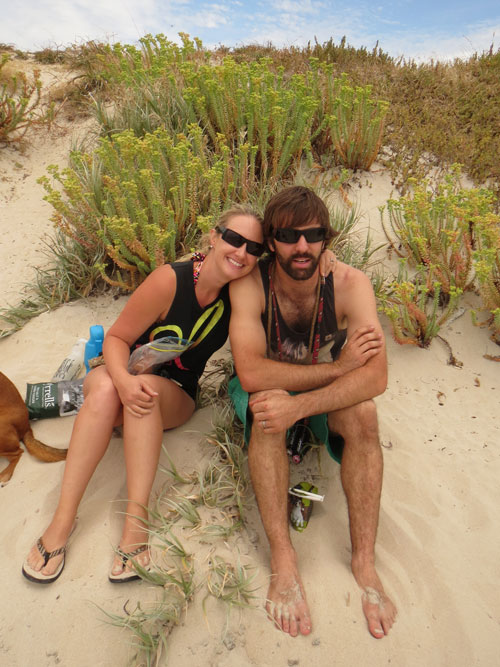 Then at Busselton for snack, Beautiful Beach but by now it was clouding over.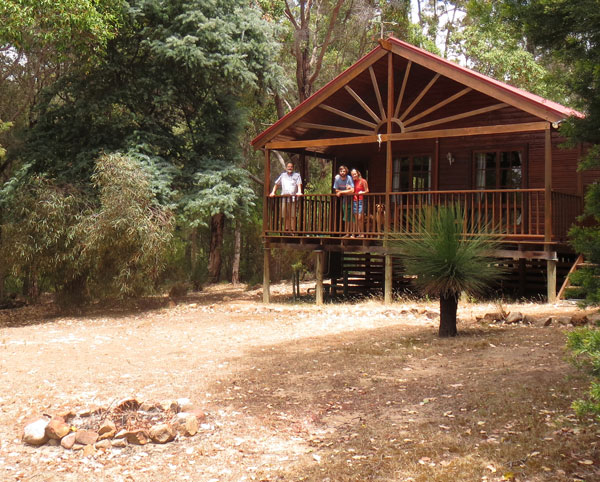 Then on to our beautiful log cabin, called 'Tree Change' plenty of honky nuts. Across from goanna gallery & café. Meal out in evening at the little fish restaurant, on the way there we saw lots of kangaroos out on the grass by the lake.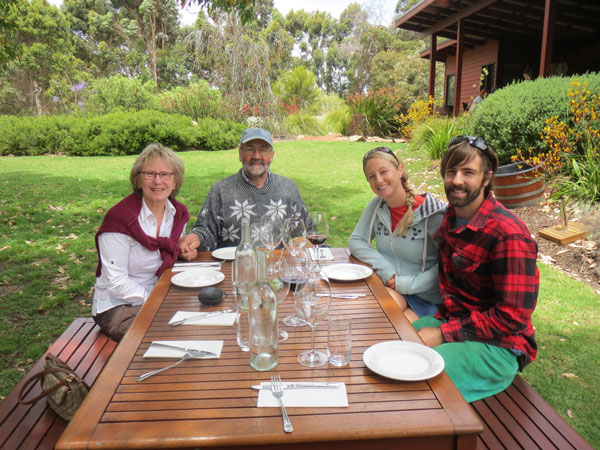 Saturday 19th
Lazy Morning fried breakfast took dogs to beach for a run. Cold for Australia 18°C in morning. Walk on Smiths Beach fabulous, dogs had great fun, Ralph reading book in car. Just passed a group of kangaroos safely under a tree, wizo! Dinner at arimia estate winery fab. but here I was in my Christmas jumper!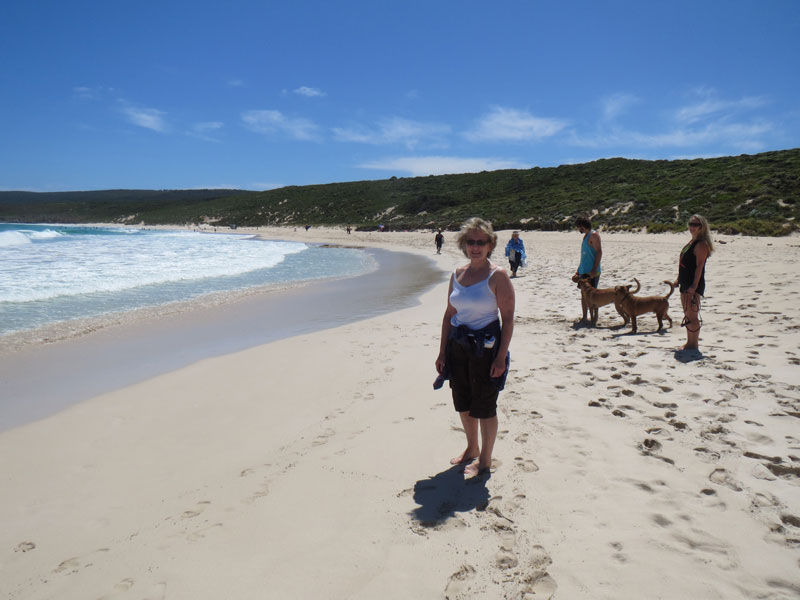 Sunday 20th
Smiths Beach dogs walked, hot. then to canal rocks bridge real Granite, super views. Went to cow town Cowaramup to you and me. Bought some wine and nougat at bettenay's , hot chocolate drink. Snack outside on grass at margaret river providore, cheese, ham & pickle yummy. That evening we went to a Carol Concert, Nellie got excited seeing a little girl with wings!
Monday 21st
Were going to go for breakfast at the Goanno Café opposite the Cabin but it's shut on Monday! So we missed out; after taking dogs for a walk, started the drive back to Perth, stopping off to buy some lovely fresh bread opposite the Yallingup local post office, stopping again at Herron Point. Had a great time in Yallingup Log Cabin.
22nd December
Very hot, walked the dogs, Byron & Sarah at work, swam in pool. Put up decorations outside in roof over patio.
23rd December ( Mum died a year ago)
Hot walked the dogs to the local shops. Washed the sheets, dry in 2hrs. Made some decoration sewed the two Nellie chewed Swam in pool, Evening went Christmas food shopping, then we had Indian Takeaway.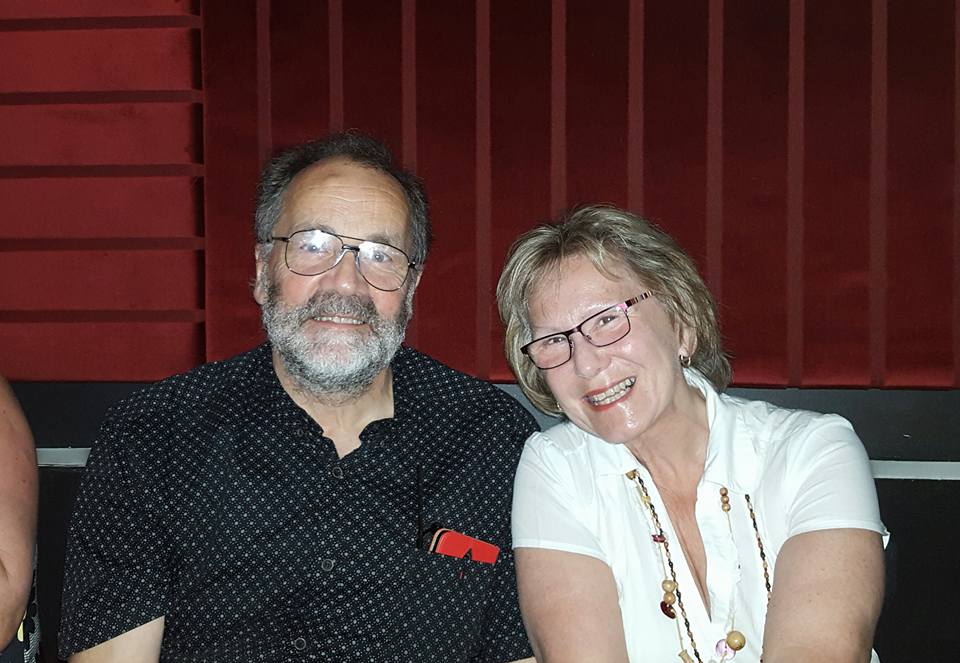 24th Thursday Christmas Eve
Cleaned up for Christmas. Walked dogs, windy good fun. Jazz Concert tonight. Byron & Sarah took us for an evening to ellington jazz club where we meet with Rachel & Adam, Paul & Jackie Adam's Parents who were coming tomorrow for Christmas dinner, really good evening out.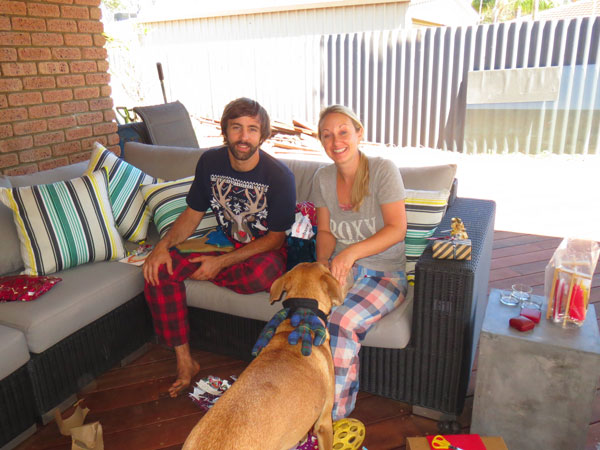 25th December 2015
Christmas Morning! Opened presents, lovely surprise present from Kurt & Rosemary. Prepared things for Buffet Byron & Sarah made it all up scrummy!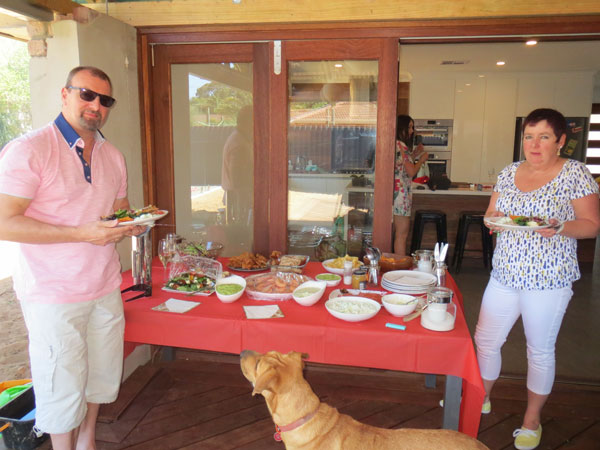 Rachel, Adam with their dogs together with parents Paul & Jackie arrived 13:00hrs. had a really good day. Men went swimming I swam after they went. Good fun 21:15hrs off to bed.
Boxing Day
While Byron & Sarah walked the dogs, sweep the floor. Snorkeling at beach rocky but fun. Swimming in pool – relaxing day good fun. Walked the dogs on dog beach super. Watched film in evening " Along Came Polly" – cheese, biscuits & wine.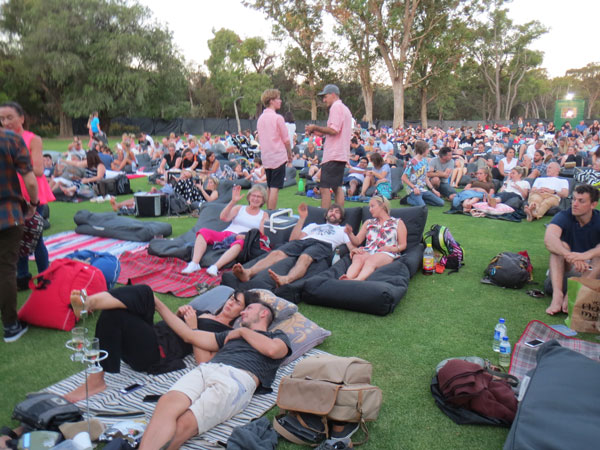 27th December Sunday
Walked the dogs. Went to garden Center bought 3 plants with Marie and Brian's present to Byron & Sarah. Back for a bite to eat, then off to shops. Ralph stayed behind relaxing reading his book. Later swimming in pool. Then went to Outdoor Cinema at Kings Park Perth, had a Lamb Salad for tea outside sitting on bean bags, great fun saw last of the "Hunger Games " films, Mocking Bird 2. Drank wine which Kurt & Rosemary gave for Christmas, it was a good evening.

Monday 28th December
Quite morning, up late, walked dogs on beach fun. Hot afternoon went windsurfing on the swan river, haven't done it since 13yr ago? Byron gave me instructions, Sarah & Byron went out on the Surfboard Ralph also had a quick go. Byron gave me a few pointers on a Kite Surfing, that was hard, took me off my feet. Good job Byron had hold of it. Fish & Chips for tea. Got ready for early start in morning- sandwiches etc..



Tuesday 29th December 7:30hrs Hillarys Boat Harbour to Rottnest (one week before going home!)

Up early 05:45hrs Byron took dogs for a walk. Full day at Rottnest Island, smooth crossing Bought an Island Explorer Bus Ticket and caught the first bus from the Settlement, to Little Salmon Bay, Byron walked over to the toilets, where he said there were some snake's on the path, I didn't go and check!

Then caught the Bus here 'Stark Bay', nice beach but they didn't see many fish snorkeling, rather cool today. Then last to Little Armstrong Bay, where it was much better snorkeling!

Coming for the bus back we saw a quokka on the road on our way to the bus stop. to catch the Ferry back to Hillays boat Harbour. In the evening Byron made chicken, butter beans, cherry tomatoes fried in olive oil, supper scummy, then watched good film "Divergent".
Wednesday 30th Dec.
Late up, we cleared up, Byron & Sarah walked the dogs. Went to Freemantle Market! Well it was closed waked along the harbour saw the duyfken then along the beach to see the Freemantle boat museum, it also had an exhibit of leonardo da vinci's work amazing. Lunch out yummy. Dad & I walked the dogs, Byron & Sarah went to the shops. Byron's cooking is delicious every meal a winner. Byron downloaded the next film of the series "Insurgent" will watch tomorrow evening.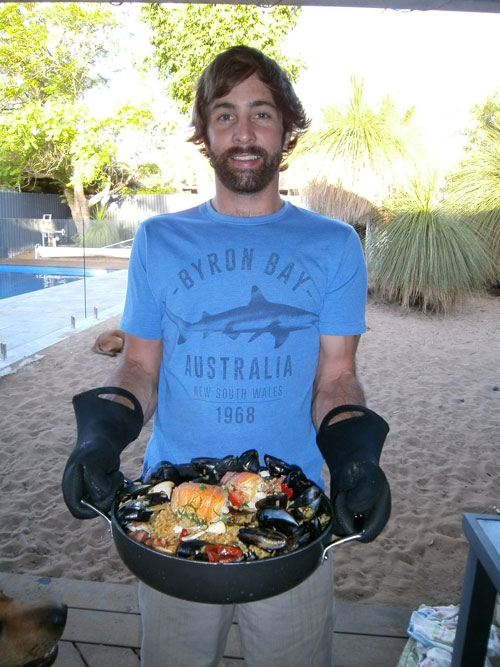 Thursday 31st Dec. New Years Eve
Late morning 08:30hrs good sleep. Went snorkeling Watermans Bay first thing great fun, bashed my arm on the rocks ouch! Lunch sausage salad. Byron, Sarah and I went shopping – stopped off at Rachel & Adam's home saw their Mum & Dad Julie & Paul, had a natter . Then we went to get some fish for tea, Karrinyup Shopping Centre, came home went swimming in pool very warm? After Ralph & I took dogs for a walk while Byron made tea, Sea Food Risotto, again it was fantastic, what a cook! After watched the film had wine, chocolate then ice cream and popcorn, yummy!! Went to bed 23:20hrs will see them next year!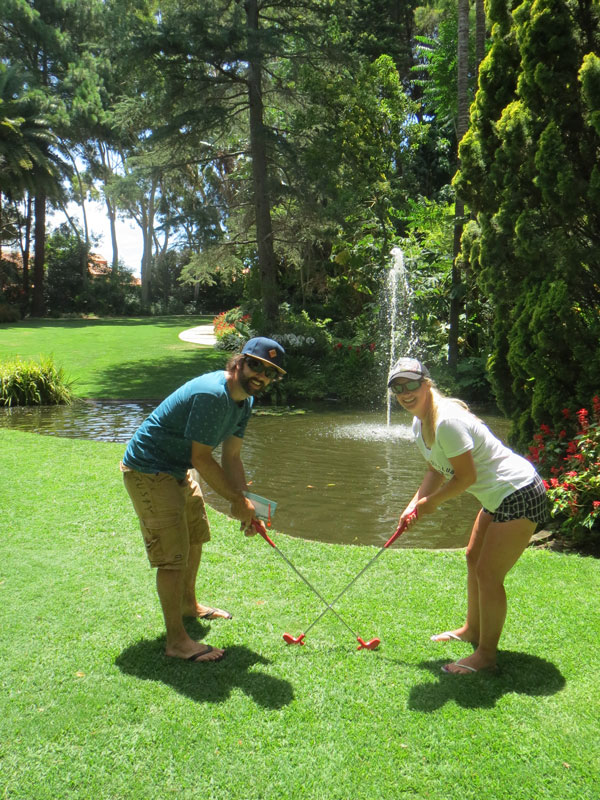 Friday 1st January 2016 'Wow'
'Happy New Year' to all my family & friends.
Breakfast Avocado Bacon on Toast lovely! Walked the dogs on Dog Beach great fun. Super time at Mini Golf fab! wanneroo botanic gardens, 15 min from house, Pizza for lunch yummy! Home and in the pool oooh! Lovely splash! Later for tea Byron cooked a joint of Beef – Thinly sliced with salad made up from, meat in sauce, cucumber chopped at an angle, very appetizing with roasted peanuts & different coloured small tomatoes once again yummy! 21:45 bruise coming out nicely on arm.

Saturday 2nd January 2016
Late up 09:00hrs. Pate on toast for breakfast. Walked the dogs on the dog beach, See picture city of joondalup - hillarys animal exercise area went swimming as well, Nellie came swimming, Nixon too nervous. Saw Adam & Paul on beach. After we came home, changed and showered went to Perth. Sarah, Byron got some shorts and T shirt I bought denim skirt. Sarah & Byron bought me perfume for my birthday. Had coffee cake out. Byron Showed us some street art in the back lane wow!! Impressive. Came back home went swimming in the pool playing with Sarah's floats Nessie & shark. Byron made salmon for tea.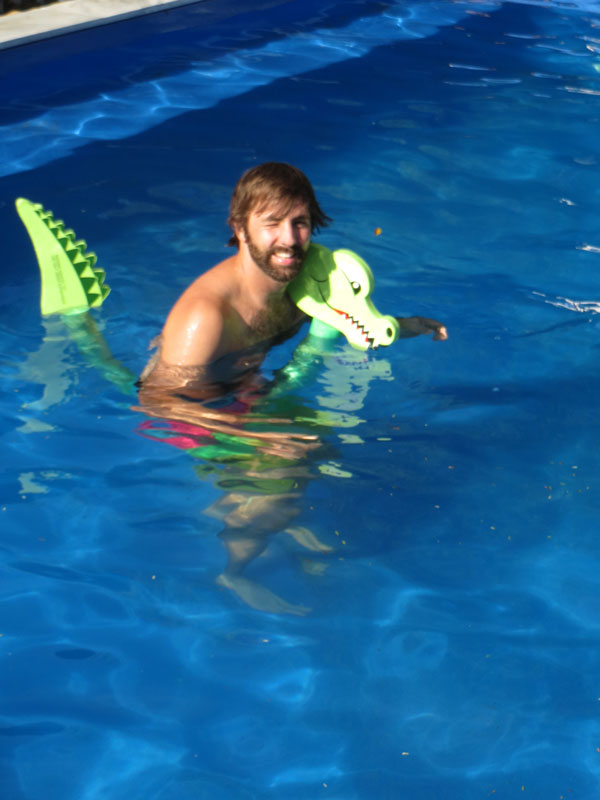 Sunday 3rd January
Snorkelling after breakfast , Watermans Bay south of Hillarys Boat Harbour, fantastic amount of fish over coral 30m off beach. Came back washed & changed, then went out for lunch at a sea food restaurant ' clancys fish bar'next to the beach yummy!
When back Byron Sarah and myself went to the dog beach, wow! what a beach: after Byron & Sarah went for a quick shop for food for the week: lot of kite surfers I was watching like a hawk, later Byron showed me instructions on his i-pad also looked at parachuting.
Monday 4th January Timmy is 4years old today!
Byron up and out by 05:30hrs! Nixon & Nellie having an early walk today, back home took down Christmas decorations, went for a walk to local shops, back home had snack, packed cases. Had a swim bliss cool at last. Actually had a spot of rain, I mean a spot? For tea Byron made Beef and salad this time with a touch of chill? You have to have some not quite to every one's liking if you're trying, this time just too hot for Mum!!!


Tuesday 5th January
See the transperth journey planner. 10:09 bus we arrived about 12:00hrs It does seem long but as we had all day and the flight was only due 16:00hrs Again Malaysian Airlines were late!

Wednesday 6th January 2016
Arrived 07:00hrs Heathrow 1 hour to get through Immigration & Customs then wait for Luggage to come out 08:00hrs. took the Heathrow Express to terminal 2 & 3 for Central bus station, Bus to Plymouth due at 08:50hrs, a little late but by 09:00hrs leaving Heathrow. It wasn't till Bristol we saw M5 Closed, Junction 23 to 24 Bridgewater well it added two hours on the journey we were due in at 13:35hrs. arrived Home at 16:00hrs.

Page Updated 02 Oct 2017