The beginning was an e-mail from Janet Fincher on the 11th April could we host a
"new couple"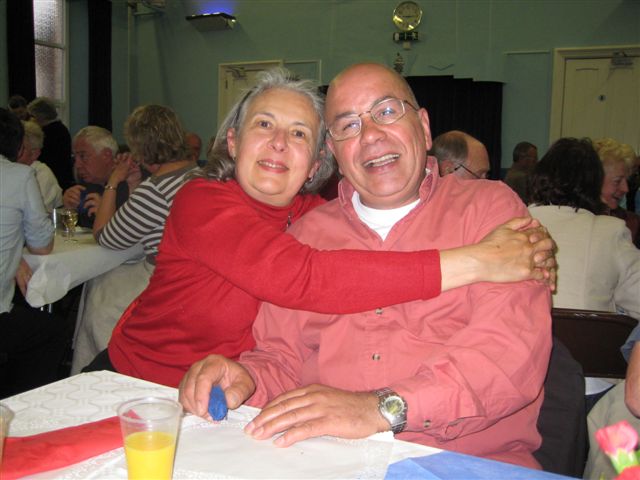 Françoise & Bénamar

Hi Janet & Eric

We will be happy to have them stay. I hope they will realize that our French is unpertee (very little like my spelling). Paulene will be working Thursday & Friday at school but we could manage! Could they?

Will do a Proper Job, Drectly!
Ralph
I think e-mail is great as the French twinning president Elisabeth Rosen let us have their e-mail address. We exchanged e-mails with pictures also answered questions. "About towels: do I need to take mines?" "No! Make yourselves at home when you come to us." "May I take my swimming suit ?!!!!" "Great we like swimming but we're not been in the sea yet, it's still very cold." (that question could have been a joke!) We warned them that Paulene was all go, on Wednesday 20th May 2009 the day the French were coming, arrive 8.00 pm.; First - Unveiling of the HMS. Jasper, Second - Cat Scan on her poorly shoulder, Third - Pick-up French visitors.

Enjoyed meeting all our friends in twinning at the Roscoff ferry terminal in Millbay Docks (Plymouth). Recognised our guest from the photos we exchange on line, and were off home.

Thursday a nice start we had croissants Paulene's choice, before going out we learned more about each other, Françoise is learning English with Susan Futcher and is very good she wants to be told where she goes wrong, but Ben's English is "harf and harf" which half we slowly begin to understand. The arrangements were 10.00 am. welcome reception by the Mayor in the Main Hall at the council chambers Torpoint.

360 deg. view Cawsand & Kingsand 13th May 2009

Paulene is off to work at school, 1 O'clock pm. and I try to show them the local area with a drive. I'm not too gentle with my Introduction, first tregantle fort created by one of our recent French relationships. On passed whitesands, and yes they would like to go on Rame head!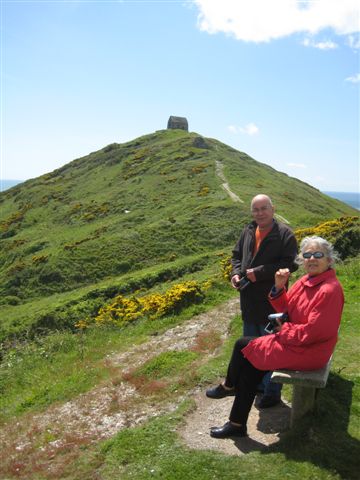 Here I learned more about Françoise, she knew all the wild plants and their uses! Old pictures of the Rame area can be seen on www.rameheritage.co.uk . So on to kingsands & cawsands where Françoise used one of her English Banknotes to pay for a coffee, she said it was 20 years old, pity the prices were not from that time, we did enjoy the rest at the nice cafe in between the two towns.


A View of Millbrook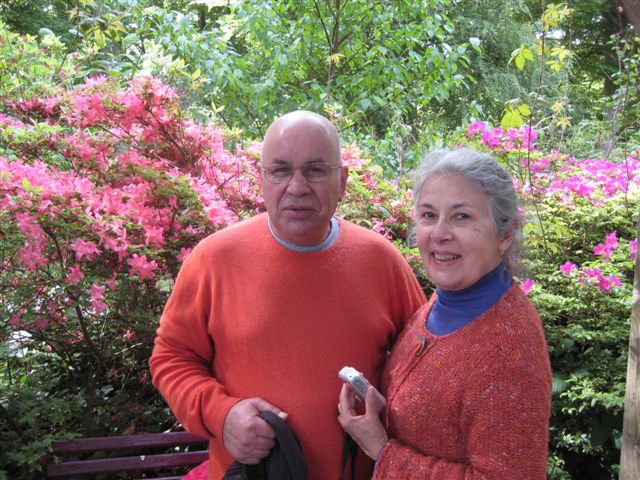 We stopped to see this view before walking around mt. edgcumbe formal gardens which they enjoyed. On the way home I drove into antony house grounds down to the water and back to complete the days tour.
I made chicken and rice, Paulene made a salad for tea before we went to the horseracing! at 7.30 pm. at the football club.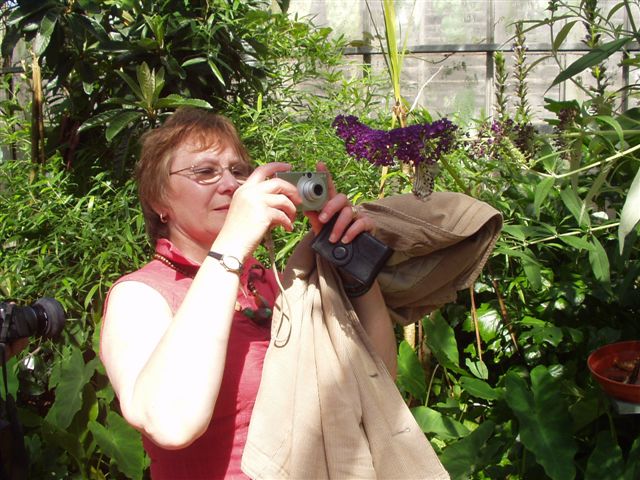 Friday coach outing to Buckfastleigh and Totnes 9.00 am. depart Torpoint. Great a bakerday (not many Ministers get a day named after them) so Paulene was able to go on this trip with us, it was another nice day. At Buckfastleigh the Otters & Butterfly Center was our first visit, as we went in with the butterflies my glasses steamed up, we then went into see the Otters feed. Next it was a train ride on the southdevon railway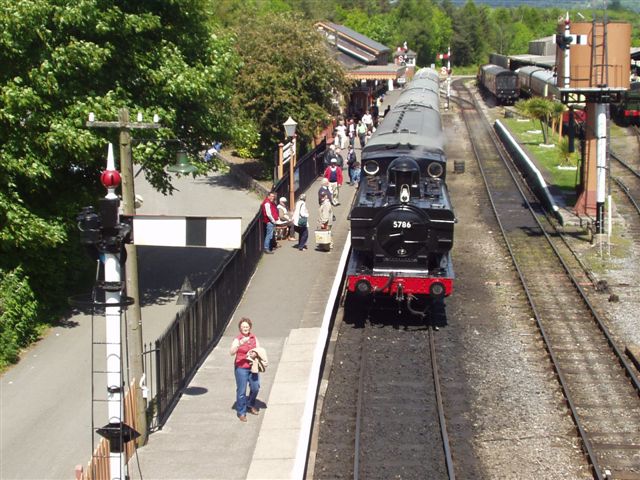 After a lunch we caught the 2.15 pm. train from
Buckfastleigh to Totnes.
Some went to sleep with the gentle rocking of the train, others took in the lovely views of the river dart.
We stopped at Totnes Littlehempston station and had a nice walk over the river to Totnes Railway Station were we caught the Coach into the Town Centre.
A walk up the high street had us looking around the market which Ben liked. We caught the coach back at 4.15 pm. opposite the supermarket. Arriving back at Torpoint ferry quite late about 6.00 pm. we got out and walked onto the ferry and had a cruise across the tamar the border between cornwall & devon . Sue Symes and Françoise took this opportunity to see the "conductor" driving in his cabin.
The arrangements were for a Evening Soiree!
Well! Ian and Judy Scott had invited us for the evening. Their guests were unable to come with the twinning but they still made arrangements to host the evening 7.00pm. for 7.30pm. start, but as they had only just got back from Totnes in the coach they managed brilliantly.
I arrived and found one of his Library books on sail trimming, after having my head stuck in it for a couple minutes I realised that the purpose of this evening was to socialise so put it down. We had a very nice meal. Starters a nice spread, the smoked mackerel paste was home made and a delight. The main meal was Chilly with rice, this was fortunate as there was not much time to prepare, but as I went round twice for an encore it tells it's own tale, (not only that I like food). We had the sweet next, I'm told English stile, before the cheese of which the Stinky Bishop was the talking point but not the only one of quality.
Most importantly we had an friendly group of people. I was introduced to Hazel Dron and her guests Georges and Christiane Braban. George denied he spoke much English, but managed to argue his point in the discussion with no difficulty in English, yes his accent was rough, but I'm sure he was not trying to impress and was having fun.
Thank you very much Ian & Judy as I enjoyed this evening best of all.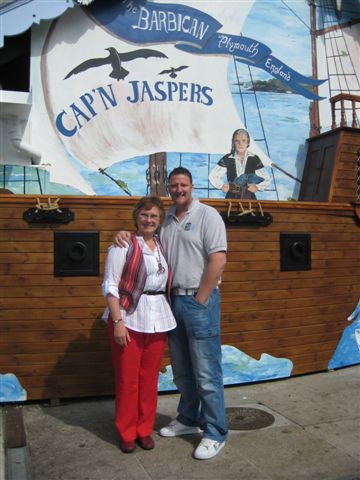 Saturday, first to sheviock "The Parish Church of Saint Mary the Virgin" for the Flower Festival and Art Exhibition. This was nice and impressed Françoise who videoed much of the exhibition.
Next as Paulene had arranged it was to cap'n jaspers where they were having the launch party for the new Boat & Mural. We introduced Françoise and Bénamar to Mark & Samantha. Mark Dabner, who built the boat, and Samantha Paulene's niece. It was nice to see other twinners at the plymouth barbican on this freeday.
Our visit was to devon, dartmoor area. First round burrator reservoir then on to princetown, where I explain we have had a history of french visitors here, after which a pastie was called for so we visited (video suitable for broadband only) tavistock pannier market and sat down for a rest before our trip home.
This Evening 7.00pm. it was the Buffet at the Torpoint Council Chambers, we were entertained by torpoint lady singers with their hats, like Paulene a number of the twinner are also in the Torpoint Lady Singers.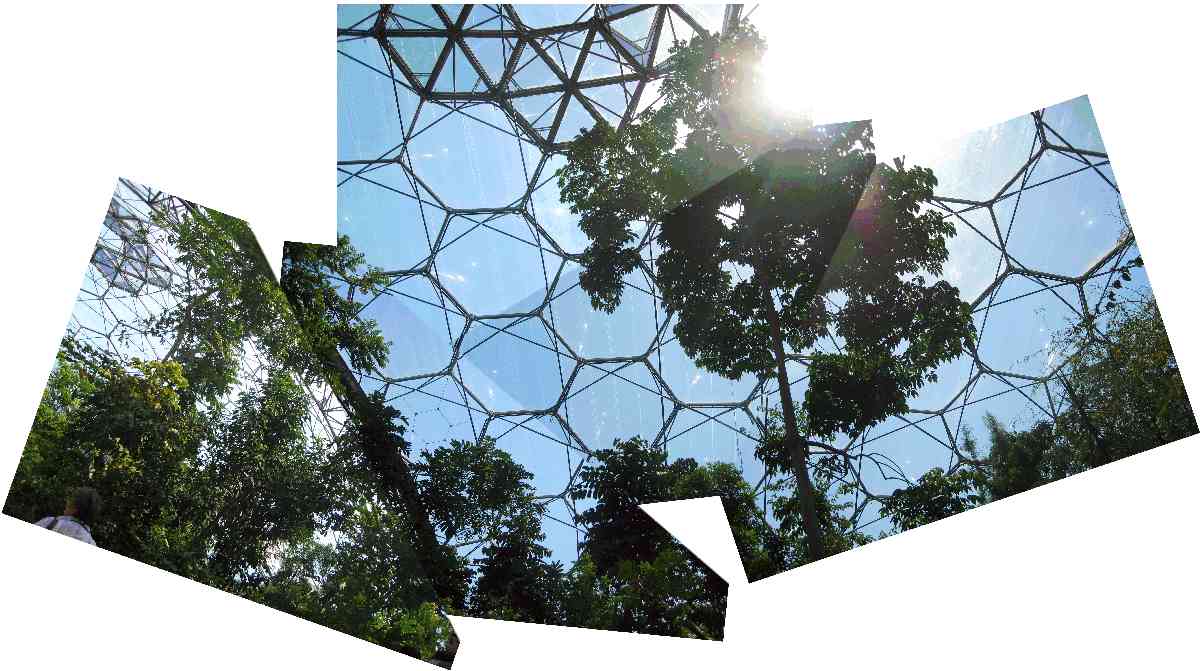 Eden Project Rainforest

Biome

on a hot Sunday 24th May 2009

Sunday drive down in beautiful cornwall past liskeard and lostwithiel and arrived at eden project as this is what Ben and Françoise are interested in (well gardening). We took our time and had a relaxing visit, walking up to the Core Françoise again talked about each of the plants used by Herbalist's and explained that is what she specialised in. A stop in my favourite harbour looe where we walked through town and sat on the pier. On the way to Torpoint we stopped at st. johns inn for a meal, It was a very nice, but I was running late and only just got to, the get together at the torpoint sailing club by 8.30 pm. to say we were going to pack and be on the 9.30pm. ferry.
Our thanks must go to Christen Martin and Elisabeth Rosen and their committees for all their hard work in enabling us to meet such a nice bunch of French men, and ladies. It's really nice to try to talk with our friend's from across the channel, and get to know about their lives, the important part is always people.
And lots of thanks to our French visitors Françoise & Bénamar, who accepted our efforts to have a nice visit and took part in the social events that made this Twinning visit so enjoyable for us.
The Website is to keep our friends and family in touch with us, comments and input is gratefully accepted. All visitors are welcomed to brows pages.


Page Updated 15 Sep 2017