Wednesday 24 October 2012
Early to Plymouth to catch coach, as Peter had another job to do. Was there in time to catch the earlier coach which only had a dozen booked so the driver let us on. when we arrived at Heathrow went to Terminal 4 to check times and the journey for the next morning. Booked into Ibis Hotel. As we had packed lunch Paulene encourage me to not have dinner in the evening
Thursday 25th
Down to breakfast at 07:30hrs, I made up for no dinner the night before . Left for Airport 08:00hrs. journey was quick and we were there 08:30hrs with 1/2 hour spare ie. 3 hours before departure 12:00.
Friday 26th
Australia fantastic Wow!!! we saw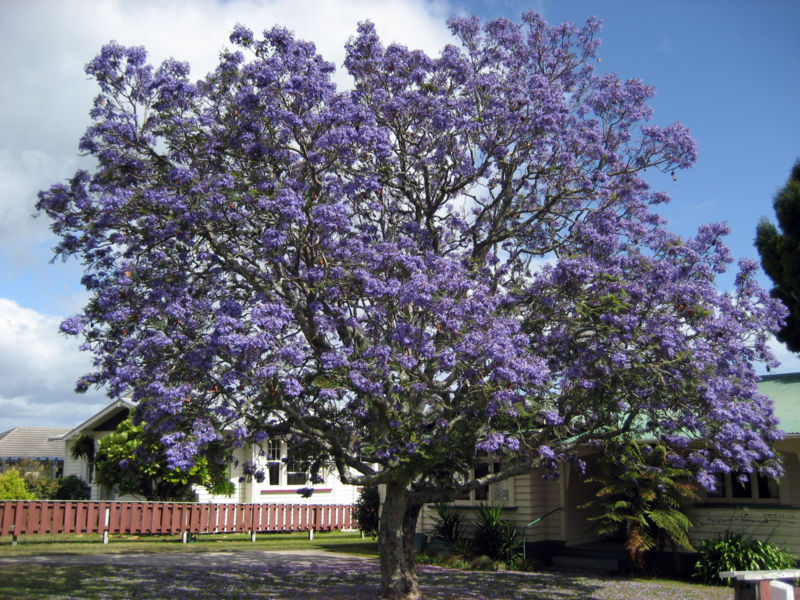 Jacaranda Tree in full bloom.
(Jacaranda mimosifolia)
Picture used from Wikimedia Commons
Saturday 27th
Morning Peasholm Street Dog Beach for Nixon wonderful frolic in the sea - little cold . Dinner in soda cafe was called wild fig cafe when google street map had a look. Walked in kings park fab. view of city from bridge.
Chicken BBQ salad walnuts banana fried in honey, gorgonzola cheese , chocolate.
Sunday 28th
Nixon - walk. Visited Perth Prison, last hanging 1971 150yrs. old Ug!
Nixon went to dog pound for three days. Walked and ice cream "Peters on the beach" Back home looked at info in Rottnest Island. Greek salad Tomatoes orange Salad virgin oil fete cheese!
Monday 29th
06:00hrs up sharp fall out of bead into clothes, out of door, off to Hillarie's boatyard for the boat to Rottnest Island. Cycled to Porpoise Bay saw Beached Dolphin. Cycled to Parker Point saw sting ray. Stayed long while at little Salmon Bay saw loads of fish great fun, in Byron's wetsuit. Out for Meal, Loads of Rats around very friendly like small kangaroos (Quokka).
Tuesday
Rottnest, Dempster Lodge Little Arnstrong Bay snorkeling. Cycle ride around Island can't remember the last time I had a work out. Saw breaching Whale far out. Evening meal out at Restaurant wonderful, realy cold at night wore my rain coat.
Wednesday 30th October 2012
Up early ferry back to Hillarie's boatyard. Cold over cast had to put coats on, picked up dog quite afternoon. B&S took dog for a walk. Byron made Banana Bread. Nasi Goreng for tea wrote cards out watched DVD abut elephant "Water Boy".
Thursday 1st November
Caveisham Wild Life Park.
Kangaroos, Fantastic park, Birds, Goats. Saw man shearing sheep had a go at cracking whip, didn't do very well, milked a cow 3 squirts
Friday
Walked the dog at beautiful " peasholm street dog beach ". Shops posted cards. Sailed catamaran for an hour, on the river in front of Perth city, great fun - cold. Salmon Salad for tea yummy.
Saturday
Walked the dog at lake gwelup reserve, around the lake. then out to Freemantle Market. Bought two Boomerangs made in UK! Second visit to freemantle Prison thunder storm rain!!! Second walk for dog at dog beach. Lasagne for tea yummy!
Sunday
Has been blowing & raining a hoolie Ha! Ha! Went to Shops, at Hillarie's boatyard bought a dress, walked the dog, in rain coats. Poor Nixon into the pound again. Pork for dinner. Early to bed.
Monday 5th November 2012 (Bonfire Night Didn't see any Fireworks!!)
St. Margarets River - 3hr journey
Busselton Pier longest wooden pier in southern hemisphere - raining [English Summer]. Beautiful Bunker Bay and great meal in the cafe. ngilgi cave. The house at st. margarets river fab!!
Tuesday 6th November
Quick breakfast then Byron drove down to mouth of Margaret river. Bushtucker tours great fun crawled in cave bit scary great fun. Saw glass blowing in St. Margarets town. Meal at Winos' tappase restaurant.
Wednesday
Wine Tasting Tour - all day.
Went around different vineyards had meal out, Venison farm shop, chocolate factory, cheese factory, olie oil tasting & shop.
Thursday
Left St. Margarets River after calling in on Berts friends they sent their regards to Bert, Angela and the three, no Four Boys! and collected two bottles for him. Visited a coffee Shop and had a tasting very nice, but had a ice coffee as it was a nice hot day. Collected Nixson from pound and took him for a walk to his beach. Sausages BBQ.
Friday
Dog beach - walk Nixon - Sun bath Snack Shops for food. Cleaned yard.
Dinner in evening Kangaroo, salad, cuscus, fried almonds, raisins, tomatoes and mint!
Saturday
Walked Nixon in Park had snack. Visited 2 Rocks Town disappointed with beach. Burns Beach saw Para gliders looked good fun, had ice cream. Home did some washing in the evening had an Indian takeaway.
Sunday
Fabuluse holiday with Byron & Sarah. Walked Nixon, shops, BBQ on beach very windy so a cold spot ate and came home. Cleaned home a little took Nixon for walk along beach saw windsurfers. Packed case and early to bed.
Monday 12th November 2012
Bus on Huntriss Rd. No. 462, I didn't get it right hoped to get a 08:05hrs bus but it came at 08:30hrs which was okay as I left plenty of time for the journey. But on the bus to the Domestic Airport it took 45min and Paulene had to cross her legs, she thought it would never arrive as it went all round the houses. Visit to Gail in Brisbane
Tuesday
Samantha came in the morning with the children for them to see their Pom relatives, Liam 12, Jake 10, and Caitlin 4. The Boys then went to school. Gail drove to Tambourine Mountain where we went on the Sky Walk . Gail sat down in the Cafe, she had recently had her knee replaced and Caitlin went on the walk, Paulene carried her when the walkway swayed but she enjoyed following the arrows showing the way.
Wednesday
Took Caitlin to Kinndy. Walked the Spite drove around Gold coast
Thursday
Beach with Samantha and Children and had picnic. In the evening we all had a Chinese dinner at Gail's.
Friday 16th November 2012
Swam in the pool before Gail took us to railway station. The Airwaytrain to last stop, Domestic Airport Brisbane.
Byron after a long wait and having done the shopping meet us at Perth. We had Pizza for tea.
Saturday
Dog beach, Shops and Snorkelling
Sunday 18th November
Walked Nixon Dog beach, Shops meal out drove around sight seeing looked at Kite & wind surfers. Dinner out at restaurant to say thank you for a great holiday.
Monday
Home alone Byron & Sarah off to work early! Took Nixon for walk lake gwelup reserve, Nixon was out of condition as he had to lie down some times on the way back. Went Shopping Got lost in Mall but caught the 426 Bus back to Huntriss Rd. When Byron came home took Nixon for fun with Frisbee. Made curry for tea, What! Apple and Oranges in a curry? Well Byron didn't agree with my version of how it's done, but we didn't fight about it I just did it his way!
Tuesday
We weighed our case's with the help of Byron's neighbour Kate. Paulene went with Kate to the shops.
Wednesday
Kate & Bert Byron's Neighbours, took us for a Drive to Mandurah we saw their holiday chalet, then Paulene went shopping and I sat down and had a chat with Bert before we had a nice Chinese for lunch. Then walked along river before having Iced Coffee. we were going to see Kings Park again but the traffic was heavy so we came home in time to walk Nixon.
Thursday
Early at 05:30hrs Byron gave us a hug and said goodbye then it was Sarah just before 07:00hrs. We were again home alone, well Nixon climbed on the bed kept an eye on us.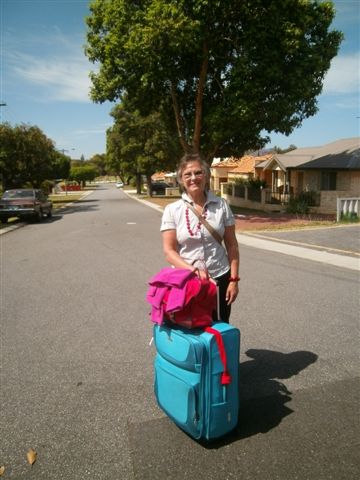 It was shortly before 10:00hrs we started back, the up the alley to bus stop It's the best value in Perth $4 to the Domestic Airport at Barnes St before ferris, Buses 421 and 423 giving a 10 min service to Stirling Stn., Train Stirling Stn to Perth under ground and then at St Georges Tce. Bus 37 to the Domestic Airport. The Jacaranda trees were still in bloom! We had to wait 20 minutes for the Internationals Airport shuttle but was there by 12:00hrs.