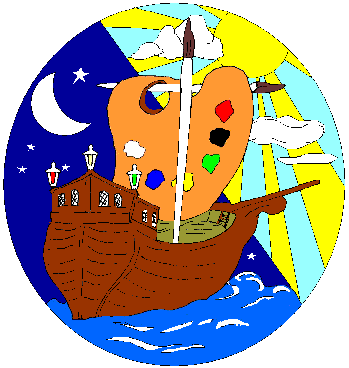 PennCirrus a Hurley 22, with Ralph Smith skipper and a full crew of Otto Pilot, GPS. Garmin & Mercury Outboard. Left Friday afternoon 13:45hrs 30th June 2006 for a voyage to Poole, where our son Byron is working. Motoring out GPS. Garmin was knocked out of his bracket and on to the floor by the Sail cover, major damage to his organs, meant an operation to secure his battery connection which had shifted in the fall.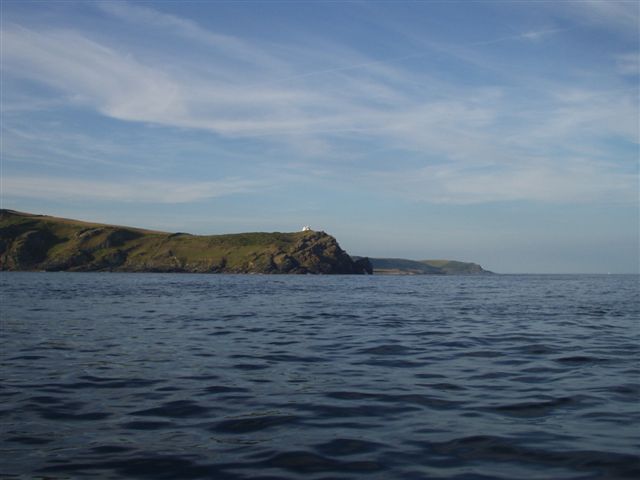 This was not a good start as I was relying on my crew and I had not sailed too far for a long time. The wind was very light and by 21:00hrs PennCirrus was motoring past Start Point. We had to motor all night due to the lack of wind, but luckily, Otto steered without needing any assistance, leaving me to keep a watch in the inky black night. I could only see the twinkle of the bow wave. 07:00hrs on the 1st July Mercury revved up a little and an Easterly wind picked up as we approached Portland. This wind, blowing into a strong eddy of tide, meant the sea became quite choppy. There was more work for Mercury as we planned to round the Bill with the first favourable tide stream. The wind picked up and felt like a force 6. Close under Portland I put up the jib and prepared to sail round Portland Bill. The race looked not too bad (neap tides) so we just carried on motor sailing on a close haul. The race threw the boat up, and suddenly we were at a standstill, with no helm to control us in this violent sea. Just as well Mercury revved up, and with way on we were again in control.
Start Point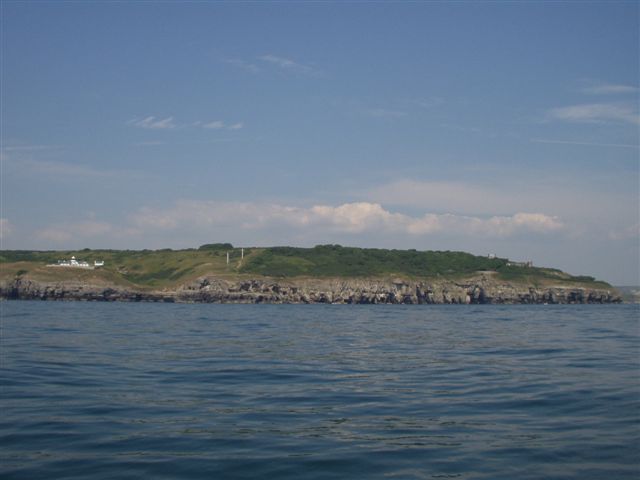 Sailing against a less strong Easterly wind, we came close to Lulworth Cove, and was waved off by a dive boat covering divers, tacked out again. At 14:00hrs we realized that the St. Albans Head would not be reached by the time the tide changed, so Mercury started up and we motor sailed. My mistake was thinking that the tide in Poole Bay would be like that in Whitsand Bay - wrong! We rounded the Head and on to Anvil Point, Durlston Head & Swanage Bay. By now Mercury was working full throttle. I kept him in his locker with the doors closed because he was a bit noisy. The last head land was Handfast Point.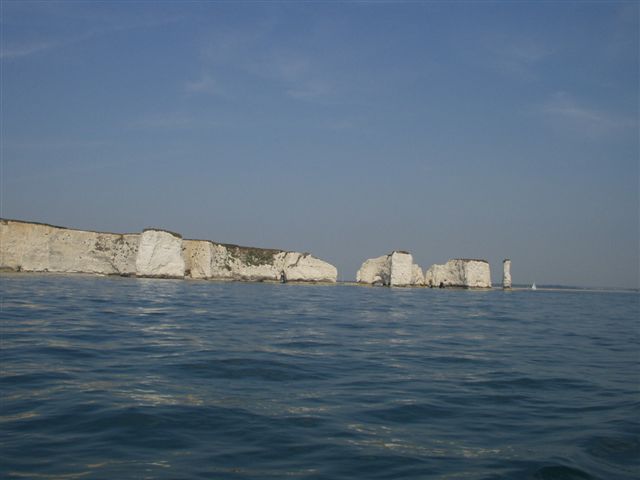 Anvil Point & Durlston Head
The Foreland or Handfast Point
http://www.sandbanksferry.co.uk/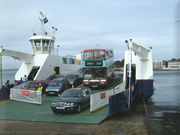 So this is how I sailed past the Sandbanks Ferry at 18:00hrs, and arrived in Poole harbour. Here I gave Mercury some air as I slowed down, only to find him making a rattling sound, as though he had found it hard going for the last 4 hours. In Saltern Marina I saw friends of Byron, Richard & Emma in their speed boat filling up with fuel. They said Byron was busy that evening going to an Elton John concert. Nice to see I was expected! As I could have pulled PennCirrus on the davits of the motor yachts moored here, I took their advice and moved up to.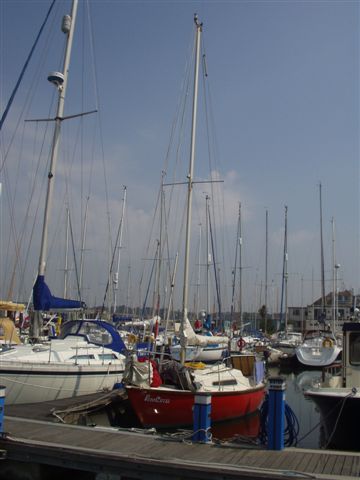 Parkstone Sailing Club where I was allocated a berth for the two nights at ?16 a night. I was given a long list of combinations to access the pontoons, the yard gate, toilets & club entrance.
By this time I and the crew were tired ,except for GPS, as I only had him working part time to let the Plastic Padding go hard and heal the broken battery case, Otto was shuddering by now and Mercury was gasping. We were tied up. After sailing all last night I quickly went to sleep, but woke up early at 04:00hrs when it was beginning to be light, and started to tidy the boat. For breakfast I had grapefruit and coffee; nice how all the sachets from Bed & Breakfasts can be used, and are handy in our boat.
I took a walk before lunch and saw Sarah, Byron's girl friend with her Mum & Dad at the shop,
Poole Harbour Water Sports, where Byron works.
In the afternoon I looked after Mercury, topping up his oil and took Otto apart, to give him some TLC. Luckily for me, he went together again after a couple of tries. Byron made a nice Bar-b-q Sunday evening and afterwards took me to fill up the cans of fuel.
What a place Poole is! It has two high tides and you take the time of low tides as a reference. After the error in tidal streams coming here, I bought Tidal Streams NP 337 - The Solent and adjacent waters. Lots of navy ports start with a "P". I used to get Portsmouth mixed with Plymouth before I moved down here.
Well! Going back, Monday morning at 10:00hrs, I mixed up Portland with Portsmouth. That left me 5 hours adrift on the tidal streams. Mercury worked hard to make up for the skipper?s error. At St. Albans head, motoring against a foul tide, an MOD. boat came alongside and said I had to go 6 miles on !!! out to sea to keep clear of the Lulworth Firing Range, as it was active!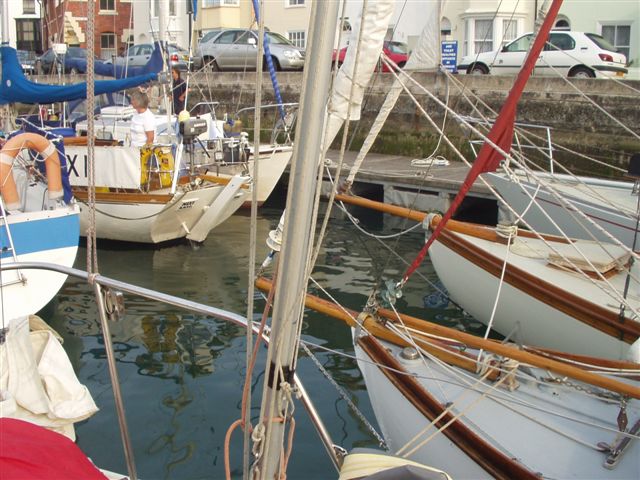 Arriving in Weymouth Harbour at 17:45hrs, it was four deep in the outer harbour, but as it was a flat calm night, we made fast and a tin of curry was rustled up. We had an early night before the 04:00hrs start on Tuesday morning. The tidal streams here NP 257 are based on HW Devonport
It was becoming light, and we again were going out on Mercury, while GPS was navigating. With a course worked out the previous evening, this time working around south of the race, and into the max westerly tidal stream at over 8kts across the ground, PennCirrus was flying. Pity it was not under sail.
After 12 hours with Mercury running well, and Otto steering all day, PennCirrus came round Prawle Point and into Salcombe. I had a quiet night, after a shower, on The Egremont.
Wednesday morning it was raining, so I waited till afternoon. At 13:30hrs I started off. Then at 15:00hrs we had some Southwest wind and PennCirrus was under sail, but by 18:00hrs it was flat calm as I came into Plymouth. As I passed Devils Point the TMSC. Cadets on their evening training came by in a fleet of TMSC. yachts and I tied up at 19:30hrs just below the Torpoint Ferry.