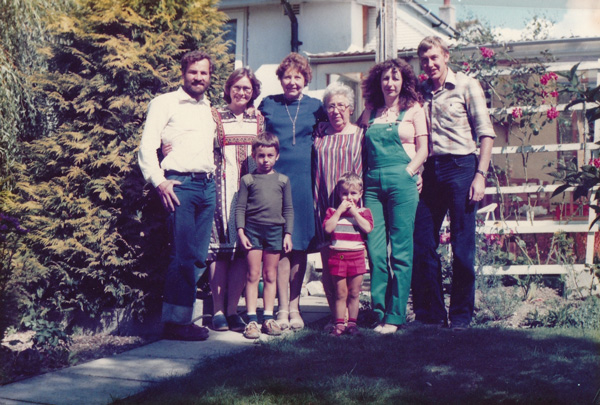 From Left to Right
Ralph, Paulene, James, Auntie Kathleen, Mum, Mathew, Sue & Andrew
Paulene & I travelled on the 09:30hrs ferry 30th January 2014 going to Weeley near Clacton. It was a good trip I chose to go south M25 it was still sunny but as we got to the Dartmouth tunnel it was raining, and on the A12 it was very bad visibility with spray and rain. We arrived at approx 16:30hrs at the Premier Inn where we were to stay that night. Checked when we could have dinner and found it would be at the Bowling Green one of the Table Table chain where we would also go for breakfast. I chose to have a meal deal ie. Breakfast and Dinner inclusive but had to pay on top of the original booking, I was concerned how to get the cost of the breakfast back, well I'd done it all wrong and should have booked room only and added on what I wanted that evening, if anything.

Now it was time to pickup Wolf my elder brother. I had made contact on his mobile and he was on his way. Yes! I would pick him up at the Church in Great Clacton 20:00hrs getting there 15min before waited for Wolf. I couldn't get through to Wolf's Mobile. At 20:30hrs drove into Clacton-on-Sea, as the main drop of was there no one to see, came back and called at Auntie Kathleen's house in North road well they were surprised to see us, but wolf had not turned up there. Andrew gave me the phone No. And we went back out to the Church this time the Mobile worked, the coach was delayed and he would be there shortly, well No! The coach did go into town and then back out we picked Wolf up at 21:30hrs and took him to Auntie Kathleen's house as everyone was looking forward to seeing him again we talked for an hour or so but it was time for us to get some sleep, drove to the Premier Inn at Weeley and Wolf booked in.

The Funeral was for 12:30hrs we drove to Weeley Crematorium at 12:00hrs and meet the family again. At half past went in, the service was a celebration of Auntie Kathleen´s life. Anita & Andrew spoke well about their Mum, Sue read a Poem and Ann a passage from the Bible. There were lots of people there.

After the service we went to the Bowling Green and were able to talk to all the friends and family. We stayed till 16:00hrs then filled up with petrol and set off for Stansted. Well just up the road our Garmin was not updating , it wouldn't even turn Off! Then I made the big mistake and turned off the A120 and into Colchester, it took an hour and a half to get through Colchester and back on the A120 and turn off for Stansted. We were late now and chose not to check out the airport where we were to drop Wolf off that evening.
Rosemary and the three Boys were up to meet their Uncle Wolf, I think young Timmy was brave? with the strange man who was Opa´s brother!
Kurt arrived after a long drive from Southampton and Rosemary had time to dash out for a girls night out. We had dinner and then Wolf went online to book his coach ticket from Stansted. We drove there at approx 22:00hrs but as I got the exit wrong we went 10 miles south and 10miles back north before I took the exit for the airport. Wolf was going to take the coach to Stratford (London) where there were bus´s to London City Airport. We dropped him off next to the Coach terminal at the express drop off point £2 for two minutes! It felt like we were abandoning him out in the wild, wind and rain.
Well he had a rough time getting to Isle-of-Man. After the Plane got there, it couldn´t land and it went back to City Airport, bussed to Gatwick and then on a prop plane which was able to land, but this was now Saturday evening. Wolf had been travelling from Friday afternoon.
We then went to Baldock Services and booked into the Days Inn. Saturday morning we went to Kurt & Rosemary. Then we followed them to the Natural History Museum Tring. It was quite a long drive. We had a great time but I have contacted them because the stuffed Quokka didn't look like what we saw at Rottnes Island.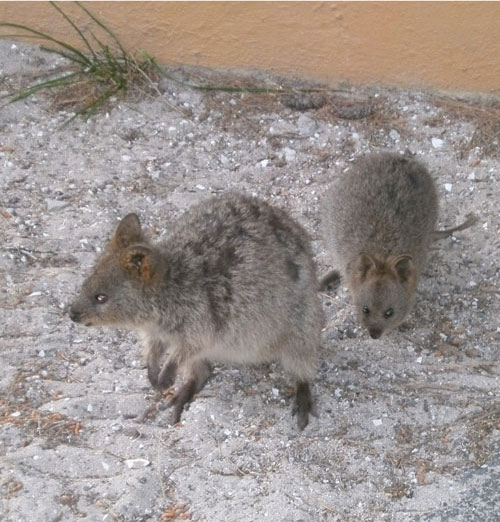 We had Pizza in the evening and Sunday we had breakfast with Kurt & Rosemary and went to Church for the morning service. After which we went to Baldock Services for lunch after which We started to drive back home in Torpoint. It was a quick drive back 5 hours to the ferry.