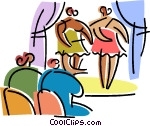 downstairs and upstairs
victoria & elizabeth
FERRYBOAT ENTERTAINERS SUMMER CONCERT
" OLDIES" 3" JULY 2014
The event was the eighth annual free Concert by the Ferryboat Entertainers, in aid of Church funds, with the ladies performing a variety songs from the late 1880's up to the 1930's.
The Show opened with a medley of "Moon" songs and later the audience were invited to join in a Seaside sing-song. The final medley consisted of several London-themed numbers, including a visit to Buckingham Palace with a naughty Christopher Robin, and nursemaid Alice, and closed with Knees Up, Mother Brown. The programme included several solos, duets, and comedy numbers including a sketch by "Gert and Daisy" and an unforgettable version of I WANT TO SING IN OPERA by Averil: needless to say, after that performance, she didn't get her wish. Joe May was Compere and sang some Al Jolson favourites. There were recitations and harmony numbers, all enjoyed by performers and the audience, some of whom said it was the best show yet!
In all, a very enjoyable evening, with the grand sum of £245.70 raised, from donations and the raffle, the prizes all being donated by the Entertainers and friends.