A Prince of a Performance!
How was it that I had to wait till Friday the 29th May 2009 to see the most funny play I've seen!
A rush for a seat at the back, lead me to come unprepared. The Leading Ladies were out front of house making sure that we were prepared to be entertained. "Wonders" it was cafe style seating, very sophisticated for here in Torpoint, had I fell in a Black Hole? No! I and the audience were not prepared for the action. Bang! down came a flat of the scenery, the stage crew were clueless, even in a Pantomime they could have done better, with prompting from the audience they still got the Fireplace upside-down?
We were introduced to the play by the crew, and it rolled out. Maybe I should say it lurched forward. The girls were quite bubbly and seemed to be pleased to be included in the cast of five!! Now two weeks on my memory is not so good on the detail, if it ever was clear what should have been going on. I had come to the most unorganised play I've ever seen, or was it? Could they get their cue's so wrong and look so clueless? No! we just fell about laughing at the slick production.
The plot was simple but with the five cast it requited a number of swift changes, I said "swift changes!". Not that it happened on cue or off set, from the Stairs, window or from the door . The props changed place as slick as a Illusionist could manage, and we all enjoyed the absolute bewilderment of the actors, as props and cast never seemed to be where they should.
Sitting at the back I heard the dialogue and saw the acting, and still I was laughing as bodies died in the wrong place and moved to get in place for the action. Some over acting took place, well all over the place! Was it as directed? It was certainly slick and so funny. The eighteen twelve overture cannons to accompany the dieing gasps of the Letitia staggering round the stage, it was oh so over the top, but a huge laugh. The production was pure corny entertainment.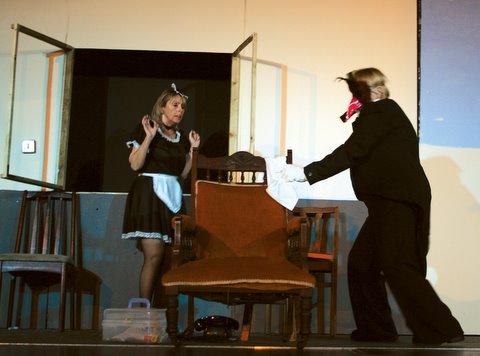 Acting comes in many forms and the complex dance of getting the chairs for the reading of the will was as good as watching the ballet.